Hallandale Family Law Attorney
Family law cases have always been one of the hardest legal battles a person may face.
Whether divorce, child support, asset division, or domestic violence, these cases can be long and emotionally draining since the opposing party is a family member or someone who used to be part of the family. It also changes the family dynamic, especially if children are involved.
Fortunately, you can resolve these cases with a favorable arrangement for all parties if you work with a trustworthy legal team. Fort Lauderdale Divorce Attorneys is a Hallandale, FL family law firm that is always ready to provide the legal support you need to deal with family law cases and protect your interests and rights. You will be assigned to one of our experienced Hallandale family law attorneys who has the legal expertise for making key legal decisions that will lead you to the best results for your case.
Call Fort Lauderdale Divorce Attorneys at (954) 371-2993 for your Free Consultation with a Hallandale Family Law Attorney!
Experienced Family Attorneys
Working with our experienced and dedicated Hallandale family law attorneys at Fort Lauderdale Divorce Attorneys can help make the family law case easier to understand.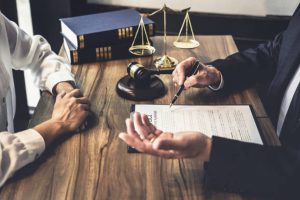 When we handle your case, we will give our earnest effort to support you during this tough ordeal and fight fiercely for the best outcomes so you can plan for your future with peace of mind after the case:
Divorce can be a messy legal battle, so many couples avoid it even if their marriage is already failing and affecting their family. It's important to work with an experienced legal expert to build your case and fight for your rights as the divorce proceedings take place, from sorting out asset division to custody, and financial support. We can also give you an opportunity to plan your life ahead of the divorce as we do our best to fight for the resolution you want for your case.
Property and Asset Division
Marital properties and assets will be distributed equally to both parties during the divorce. However, there will be cases where certain assets and properties have more value to you or your spouse. Some assets and properties may even be used as a bargaining chip so you can get a better arrangement. Our Hallandale family law attorneys can help you assess the assets and properties in the divorce case, show you which ones you should fight for, and which can be used as a bargaining chip.
Aside from property and asset division, child custody is one of the hardest parts to resolve in a divorce. But, with the help of our family lawyers at Fort Lauderdale Divorce Attorneys, we can help you protect your parental rights to your child regardless of who gets main custody. We can help you create parenting plans, time-sharing agreements, and decision-making arrangements so you can still be an active part of your child's life. Our legal team will also show the court and the other party that you are dedicated to helping your children grow and being active in their lives.
As parents, you are responsible for your child's needs so they can grow as well-rounded individuals. Courts consider each parent's income to determine who will pay for regular child support payments regardless of who has custody of the child. We can assist with enforcing child support orders or modifying the amount should the child require additional assistance.
In divorce cases, the court may order one party to pay alimony or spousal support. The court will consider the current income capacity of each party and the conditions they have after the divorce. Spousal support can be either permanent or temporary, depending on the grounds for the case. We can help you see if you are eligible for spousal support or argue the amount if you are tasked to pay for it.
Unmarried fathers find it hard to build a relationship with their children because, by law, they do not have legal rights to them compared to their mothers. However, the law does have provisions that will allow you to fight for your rights and be recognized as the father of your minor children. Our family law attorneys can help you establish paternity and fight for equal time with your children. We can also help you confirm paternity if there is a reason for you to doubt your child's paternity.
Is a family or household member abusing you or your family members? Don't hesitate to ring up our family law firm to get these abusers punished for their actions. If these abusers are left alone for too long, severe consequences may occur. Victims will be more reluctant to report their situation to the authorities. With our domestic violence attorneys on the case, we can help you get away from your abusers, get a protective order in place, and create a strong case that will deliver justice to these abusers. Our team will also help you get the right arrangements in terms of child custody, child support, and divorce.
Talk to Our Legal Experts Today
Don't hesitate to ring one of our Hallandale family law attorneys when you need legal advice and support for your family's legal troubles. Our team will provide you with the right legal advice and resources in preparation for the process and the actual legal proceedings. We can also help you collect the evidence, represent you during the hearings, and fight for your rights.
Ready to partner with us but still have questions about our legal services? Call us today, and we will be more than happy to assist.
Call Fort Lauderdale Divorce Attorneys at (954) 371-2993 for your Consultation with a Hallandale Family Law Attorney!