Ft. Lauderdale Child Custody Attorney
Protecting and maintaining your relationship with your children is typically the main concern of divorcing parents. The dedicated Ft. Lauderdale child custody attorneys at Ft Lauderdale Divorce Attorneys understand how important and meaningful the parent-child bond is for both parties involved. If you are a father seeking child custody, a divorcing parent concerned about how custody works, or a parent seeking child custody modification or adjustments to your time-sharing plan, we provide you experienced, compassionate legal support.
As dedicated and responsive Florida child custody attorneys, we help you establish an equitable custody agreement that fits your schedule and your life, as well as assist with enforcement and modification of your child custody agreement. We help ensure you are able to maintain a loving, active relationship with your children, even if you no longer wish to be with your spouse.
Ideally, both parents would work together to develop a custody plan that is suitable for both of them, which the courts would then consider and approve. Unfortunately, not all parents can effectively work together, or emotions may make planning together impractical or even impossible. Our child custody lawyers work with the other parent and their attorney to create a child custody plan that is manageable and equitable, depending on your unique desires and situation.
Every custody situation is different. Whether you seek sole primary custody for safety reasons, or want to develop a child custody arrangement providing suitable relationship-building time for each parent, our Ft. Lauderdale child custody attorneys are dedicated to providing you with outstanding support.
Call Ft Lauderdale Divorce Attorneys at (954) 371-2993 for a Free Consultation!
Ft. Lauderdale Child Custody
In Florida, there are two different concepts related custody of your child: Legal Child Custody & Physical Child Custody. Each impacts a different aspect of your relationship.
Physical custody refers to how the child's time is physically divided between both parents. This is the aspect of custody most parents consider when discussing custody arrangements.
Legal child custody is the other side of the equation, relating to decision-making rights for the child. Legal custody defines how legal decisions are made for the child, especially those related to health, education, and financial well-being of the minor.
Each of these two elements are determined separately, and can be solely awarded to one parent, or split between both parents. It is not uncommong for parents to share physical custody while one retains sole legal custody. Our goal is to help you understand your situation, and help you get a custody plan in place that fits your needs, desires, and lifestyle.
Sole Legal Custody
If one parent gets sole legal custody of the kid, that parent is given the ability to make decisions when it comes to the kid's safety, education, and health. The non-custodial parent doesn't have the legal right to make decisions for the child and must defer to the decisions made by the legal custodial parent.
Joint Legal Custody
If the parents get joint legal custody, then they both have the right to decide for their child when it comes to matters on education, health, and safety. They don't need to consult with the other parent when making decisions for the kid, as long as they're prioritizing what's best for the kid.
Sole Physical Custody
If one parent is awareded sole physical custody, then the kids will be spending the majority of their time with them. The other parent can have visitation rights approved by the court.
This type of child custody will only apply to the living setup of the children and will not cover decision-making. Just because a parent has sole physical custody doesn't mean that they get to make the decisions for their children, too.
Joint Physical Custody
If the parents get joint physical custody, then the kids will be allowed to spend an equitable amount of time with both parents. The court will make this decision only if it is the best living setup for the children.
Determining Florida Child Custody
If former spouses can't reach an agreement when it comes to the shared responsibilities and time spent with kids, then the court can make the decisions for them.
The court will decide how the parents will make decisions regarding their children's lives and how they'll be able to spend time with them. The court will make sure that the best possible setup will be created for the kids.
These are some of the factors that might be considered by the judge when handling child custody cases: each parent's job security, ability to provide a stable home environment, ability to provide their basic needs, moral fitness, the child's history, and emotional bond shared with each parent. This is always done with the best interests of the child in mind.
Custody Modification & Enforcement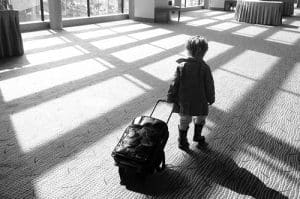 Even though a custody plan has already been approved and activated by the courts, things don't always go to plan. Situations may arise that require you to modify your current custody agreement, such as adjustments to your schedule, employment changes, or altered living arrangements.
Our dedicated Ft. Lauderdale, FL child custody modification attorneys review and assist with defining your desired adjustments in order to create a new parenting plan. We help you develop a loving relationship and sharing schedule that suits your desires and lifestyle.
If your child's other parent refuses to comply with defined and court-approved child custody arrangements, such as regularly failing to drop the kids off at the agreed time, you have legal recourse to assist you with child custody enforcement. We assist with all aspects of child custody and family law, including proving paternity and protecting your parental rights.
Let's Talk- Dedicated Family Law Firm

Building and protecting your relationship with your child is one of the most important things in a parent's life. We know that you want to provide them the best life possible, and we can help.
We understand that you want to watch your kids grow up, and we can help you achieve that. Our expert Fort Lauderdale child custody lawyers will assess your situation, help you develop a working custody plan, and work to get a parenting plan that works with you approved by the courts. We can assist with child custody orders, modification, and enforcement, allowing us to be the only family lawyer you need.
Call Ft Lauderdale Divorce Attorneys today at (954) 371-2993 for your Free Consultation!