Fort Lauderdale Collaborative Divorce
Divorce involves not only emotional and psychological hardships but also grave financial and legal challenges. Fortunately, laws in Florida, like other states, now allow a friendlier, less stressful way to legally approach a broken marriage.
A collaborative divorce process acknowledges the massive emotional aspect of a divorce and therefore aims to carry out a more practical, productive, and smoother process for both parties involved. If you're looking for a trusted lawyer who can support all your legal needs throughout this process, Ft Lauderdale Divorce Attorneys is here for you.
Avoid the long and tiring experience of a traditional divorce process that goes through court hearings. Our professional team of experts at Ft Lauderdale Divorce Attorneys specializes in marriage and divorce law. We know we have what it takes to get the best possible results from your Fort Lauderdale, FL collaborative divorce case.
We are here to inform you about every legal detail you need to know, skillfully represent you in front of the other party, and protect your rights and interests. Let us know how we can help you with your Fort Lauderdale collaborative divorce case today.
Call Ft Lauderdale Divorce Attorneys at (954) 371-2993 for your Free Consultation.
Overview
In contrast with the arduous, court-mediated common divorce process, a collaborative divorce process only involves negotiations between each spouse's legal team. In this system, there is an understanding that both parties aim to smoothen the path to an agreement on the terms of the divorce.
More and more people have been choosing the collaborative divorce process because of how cost-effective, frugal, and time-saving it is. It avoids having to go to court hearings and making emotionally charged decisions that only complicates and hampers the progress of the divorce.
Florida's government has only recently passed into law the Collaborative Family Law in 2016. It provides for the rules of procedure for collaborative divorce cases.
Collaborative Divorce Process in Fort Lauderdale, Florida
Whom you choose to represent you legally in a Fort Lauderdale collaborative divorce case is crucial. They will be the ones who will spend a lot of resources for your case and represent you to the other party. Once you sign the agreement to undergo a collaborative divorce case, the next step is a series of meetings with the other party and their legal team to discuss the terms of the divorce, such as:
1. Child custody
2. Visitation rights
3. Child support
4. Property division
5. Spousal support
A vital aspect of a Fort Lauderdale collaborative divorce process is transparency. It is expected that both parties will disclose all important information, assets, and liabilities. This is crucial for the smooth agreement on the division of assets, properties, parental responsibilities, and other resources. Transparency also means both parties refraining from using deceptive tactics to unfairly gear the terms towards their favor. A lot of emotions will be involved in a divorce settlement, so it's important to keep all communication lines open, especially when there are children involved.
If the parties are having a hard time keeping a cordial and cooperative exchange, the lawyers may deem it necessary to seek the assistance of professionals of other fields, such as counselors, psychologists, and other facilitation experts. This is also the part where your attorneys' skills and expertise will be tested, as they must know how to handle the complications of a collaborative divorce process if necessary.
While a collaborative divorce seems great and favorable, there are cases where it doesn't really work. It's better to choose to leave the situation to the court than to force an amicable process that's just not possible.
Whatever legal needs you have regarding your divorce, Ft Lauderdale Divorce Attorneys's marriage law experts are here to help you out. Call us today so you can talk to one of our lawyers and work on your case as soon as possible.
Advantages of Collaborative Divorce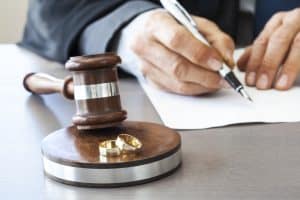 A collaborative divorce is smoother, friendlier, easier, and more practical compared to the traditional litigation process of a divorce. It is also, more often than not, faster and cheaper.
Collaborative divorce, if possible, is the best way to settle an ending marriage if children are involved. They have the legal motivation to maintain friendliness in their negotiations, ultimately making it easier for them to think about their children's welfare.
In terms of monetary resources, traditional litigation processes often demand more funds. Not to mention, emotionally charged divorcees are known to impulsively spend more on unnecessary legal actions when the negotiation processes are not friendly.
Best Collaborative Divorce Attorneys in Fort Lauderdale, Florida
If a collaborative divorce process is what you want for your life, Ft Lauderdale Divorce Attorneys is here for all your legal needs. We have helped many clients in their divorce cases, so we know we have what it takes to help you get the best results out of your divorce.
We are ready to professionally and excellently handle all important matters regarding your divorce, from child support and custody to asset division and alimony. Your case will be managed by highly seasoned professionals specializing exactly in Florida marriage law.
At Ft Lauderdale Divorce Attorneys, we aim to do our collaborative divorce cases with the utmost transparency, effective communication, and little to no hostile confrontations. Rest assured that you will receive the best quality of legal services for Fort Lauderdale collaborative divorce cases in the state.
Let's Talk – Dedicated Family Law Firm

To get the best out of Florida's collaborative divorce laws, you need a top-notch, proven legal team that you can trust. Ft Lauderdale Divorce Attorneys is here to provide everything you need to get the best possible results from your Fort Lauderdale collaborative divorce case.
Call Ft Lauderdale Divorce Attorneys at (954) 371-2993 for your Free Consultation!