Plantation Collaborative Divorce
As you think about divorce, dread for the lengthy, complicated battle in the courtroom might be the first thing you feel. However, today's legal world allows you and your former spouse to handle divorce matters without any litigation.
A collaborative divorce process is a popular alternative dispute resolution that couples with failed marriages can opt for. Like other mediations and negotiations, this will save you and your spouse a substantial amount of time, energy, and money. If that is what you want for yourself, we are more than ready to help.
Ft Lauderdale Divorce Attorneys has a team of expert Plantation collaborative divorce attorneys. They are all knowledgeable of Florida family law and have ample experience dealing with various collaborative divorce matters.
With the help of our skilled attorneys, you can avoid the tedious litigation process in reaching a practical and favorable agreement with your former spouse. You wouldn't need the lengthy and often stressful intervention of the court at all.
Our attorneys will legally help you every step of the collaborative divorce process. Rest assured, all your rights will be protected, and your interests will be fought for. To start discussing your case, do not think twice and reach out to us today.
Contact Ft Lauderdale Divorce Attorneys at (954) 371-2993 for a Free Consultation.
Overview
Collaborative divorce is a process where both parties work together to resolve their uncontested divorce. It lacks the lengthy, costly, and painful process of divorce litigation. It will work best if the two parties communicate well with each other.
Collaborative divorce has risen in popularity for the last years as a cost-effective and time-saving alternative dispute resolution method. This is due to people constantly seeking another way to handle divorce in a less adversarial and expensive way compared to the traditional litigation process.
Florida family law now officially recognizes the Collaborative Family Law passed by the state legislature. It was a bill signed into law by the governor, and the supreme court then approved the rules of procedure for collaborative cases.
Collaborative Divorce Process in Plantation
If you and your spouse decided to pursue a collaborative divorce, it is crucial to choose a skilled attorney to represent your side. Once you have signed the agreement, you and your chosen collaborative divorce attorney will attend several sessions with the other party to discuss important matters.
Some of the things that will be addressed during the collaborative divorce process are the following:
1. Child custody
2. Visitation rights
3. Child support
4. Property division
5. Spousal support
In a collaborative divorce, you and your spouse must not conceal any important detail and be transparent. Through this, the process will be open and smooth, giving you and your spouse a greater sense of control over the final settlement. Transparency also prevents either party from using deceptive tactics to get what they want.
Additionally, staying transparent with your spouse will minimize the resentment between the two of you—given that he/she remains transparent as well. Keep in mind that excellent communication, even after a divorce, is especially important if there are children involved in your marriage.
If effective communication and an amicable discussion are difficult to achieve, professionals from other fields may be asked to assist. These professionals may include family psychologists, counselors, and other facilitators or experts. Also, the skills of your collaborative divorce attorney will be put into practice as he/she uses various strategies to encourage cooperation between you and your spouse.
A lot of couples will find that the collaborative divorce process is less painful than the traditional divorce procedure. However, it is important to stay realistic. If you know that this alternative dispute resolution will not lead to a mutual agreement, choosing litigation will be better.
Talk to an attorney to thoroughly understand your options and choose the most appropriate one.
Contact one of our own professional collaborative divorce attorneys at (954) 371-2993 for a Consultation.
Advantages of Collaborative Divorce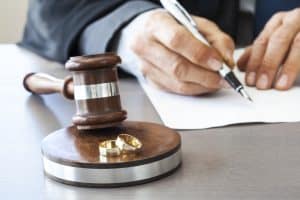 Compared to the traditional litigation process, collaborative divorce has various advantages to offer. Among the obvious ones are the fact that it is a friendlier, quicker, and less expensive process in comparison to litigation.
If the divorced marriage has children involved, the parties should settle the matter between the two of them with a collaborative divorce rather than allow an outsider to decide on the terms of their divorce. With this, they are more likely to work amicably in co-parenting and be successful in implementing the agreed-upon custody schedule.
Additionally, you and your spouse can save money through a collaborative divorce. You can freely keep your assets to yourselves rather than spend it on unnecessary legal fees for a lengthy litigation process.
Best Collaborative Divorce Attorneys in Plantation
If you want an easier way to deal with divorce than traditional litigation, our attorneys will help you through a collaborative divorce process. Our team of skilled attorneys is highly experienced in dealing with collaborative divorce in the whole of Plantation.
Once you start working with us, all the essential issues related to your divorce will be expertly handled by no less than knowledgeable, professional attorneys. Child support, child custody, alimony, and asset division are just some of the crucial matters that our collaborative divorce attorneys will settle for you.
The goal of the process is to reach an agreement with little to no confrontations at all. We can help you achieve that by encouraging transparency and good communication. In the end, what we guarantee is a comprehensive legal service that will ensure a favorable resolution to your divorce issues.
Let's Talk- Dedicated Family Law Firm

If you truly want a cost and time-saving alternative dispute resolution, it is crucial to work with the right legal partner. This will ensure that the process will completely resolve your divorce issues in the most efficient way possible. Our Plantation collaborative divorce attorneys are here for you.
Contact Ft Lauderdale Divorce Attorneys at (954) 371-2993 for a Free Consultation.